2nd Main Project meeting (February 2023)
On the February 27th, 2023, the partners of the WOOD for HEALTH project met online (MSTeams) in the 2nd main project meeting to discuss the progress, challenges, achievements and future plans for ensuring efficient project implementation. The meeting was recorded and made available for all partners by publishing the record on the Kajaanin Yliopistokeskus YouTube account.

Meeting agenda:


1. Summary of the work done by each project partner (30 minutes) (All partners);
2. Summary by the Lead Partner about the whole project (10-15 minutes) (Dr. Pekka Kilpeläinen, UOULU);
3. Work package (WP) presentations by WP leaders (45 minutes):
WP2 about the work on collection of national regulations and good practises in relation to wood in healthcare buildings (Presentation by Dr. Anna-Johanna Klasander, WHITE/ presented by Dr. Pekka Kilpeläinen, UOULU);
WP3 about the coating formulations and synthesis of antimicrobial polymers (Dr. Claudia Shirp, WKI);
WP4 about the first antimicrobial tests results and plans for further analysis (Dr. Pekka Kilpeläinen, UOULU);
WP5 about the plans concerning coating characterisations and the necessary inputs from other partners (Dr. Ulrich Hundhausen, NTI);
WP6 about the dissemination activities including statistics as well as planned activities in the future (Dr. Bruno Andersons, LSIWC).



The main outcomes from the meeting:

The activities of each WP are mostly on-time and work is being done to keep it that way. In WP2, intensive work on the use of wood in healthcare buildings from national regulation and good practice perspective has been done and additional examples will be added for obtaining more comprehensive outcomes. In WP3, coating formulations have been developed and antimicrobial agents chosen. In addition, work is being done on the synthesis of antimicrobial polymers. In WP4, base coatings and antimicrobial agents have been investigated by two methods and valuable conclusions are made. In WP5, a detailed experimental setup has been presented and inputs from partners regarding coating amounts and formulations are known and these specimens will be sent for testing. In WP6, the statistics were presented showing that the dissemination activities (articles in public media, conferences, interviews, press releases etc.) have ensured good results in terms of visits and followers for both webpage and social media accounts of the project. All project partners agreed that the next main project meeting should be organized face-to-face for ensuring more efficient exchange of information and discussion. This could be beneficial at this specific period of the project, because of significantly increased interaction between all WPs.

Screenshot of the project group at the end of the discussion about the progress in all work packages during the 2nd main project meeting.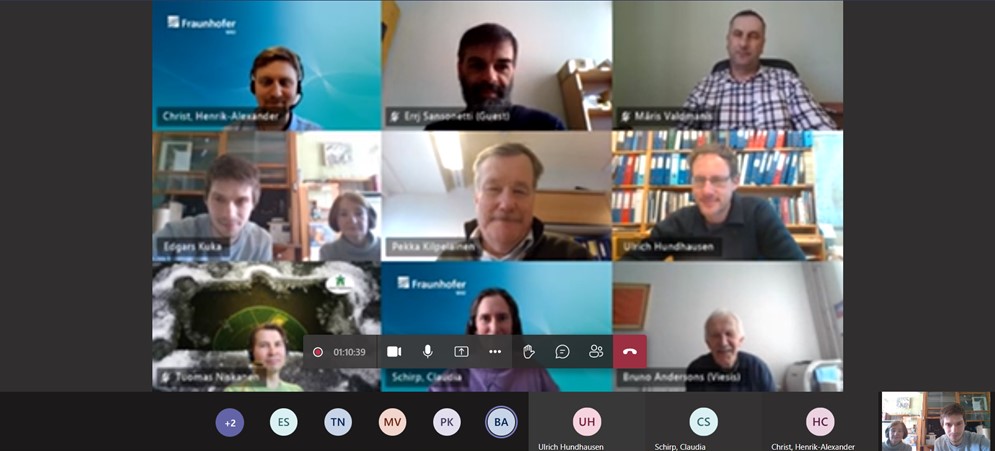 No comments
Leave a reply