3rd Main Project Meeting (August 24, 2023)
WOOD for HEALTH project consortium gathered in Gothenburg, Sweden, for a second face-to-face project meeting in August. The meeting took place in premises of Swedish partner, White Arkitekter, as part of the meeting, a visit to Queen Silvia's Children Hospital (QSCH) was arranged. QSCH was designed by White Arkitekter and features a lot of wood and wooden surfaces indoors. During the project meeting, the progress of work in each work package was reviewed, and plans for next months were discussed. Furthermore, initial plans on how to present project results to the wood engineering and construction communities in autumn 2024 were made.
Detailed meeting Agenda is found here.

In conclusion: work in the WPs 2, 3, 5 and 6 has progressed roughly as expected. In WP 4, antimicrobial assays have been delayed due to recruitment difficulties in the University of Oulu. The situation will improve during autumn.
Some photos taken during the visit to Queen Silvia's Children Hospital are presented.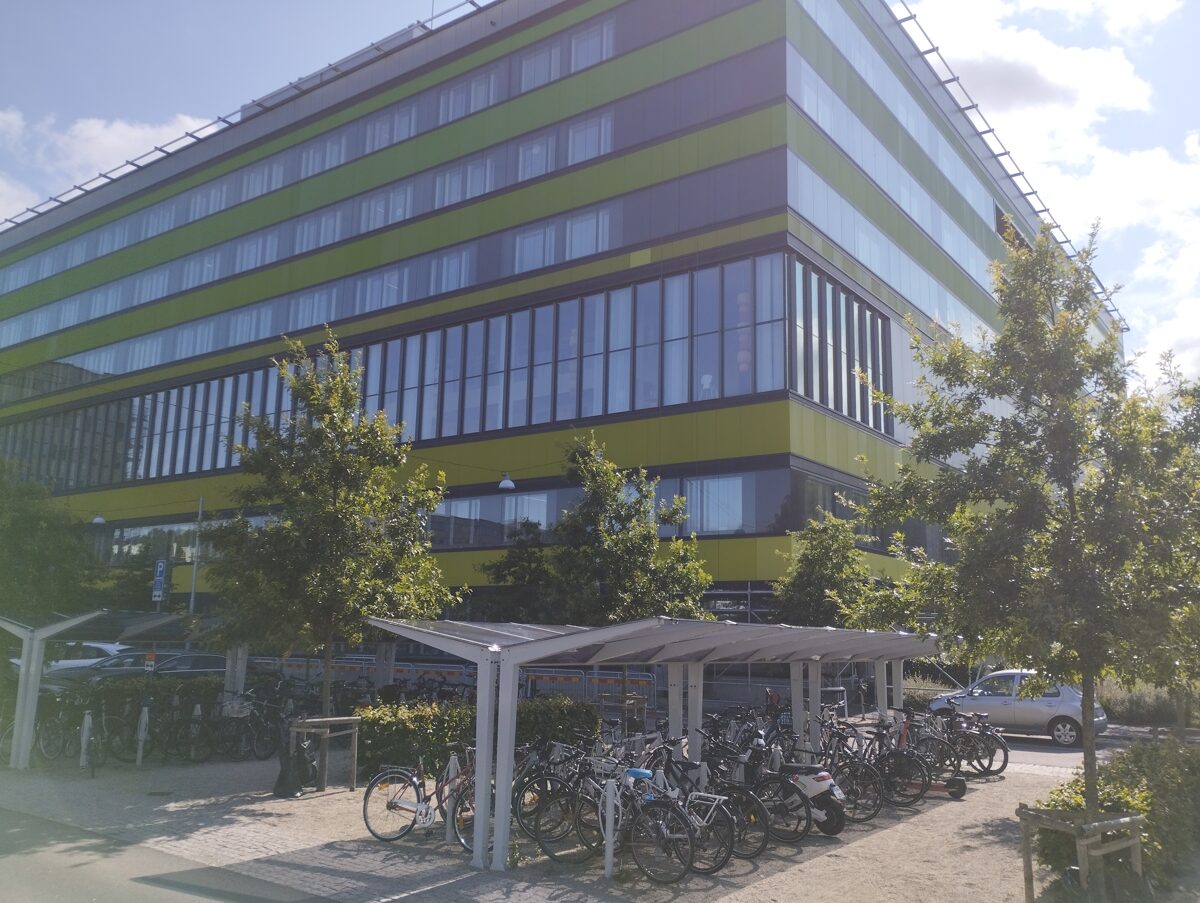 Preparations and planning for QSCH started already in 2010. The hospital was taken in use in 2021. There is no timber in the façade or outdoor walls, but there is a lot of it indoors and in the courtyards. The new building spans over nine floors, is 33 000 square metres large with new premises for rehabilitation, surgery, intensive care and administration. Parts of the old building have been renovated in order to be conjoined with the new building.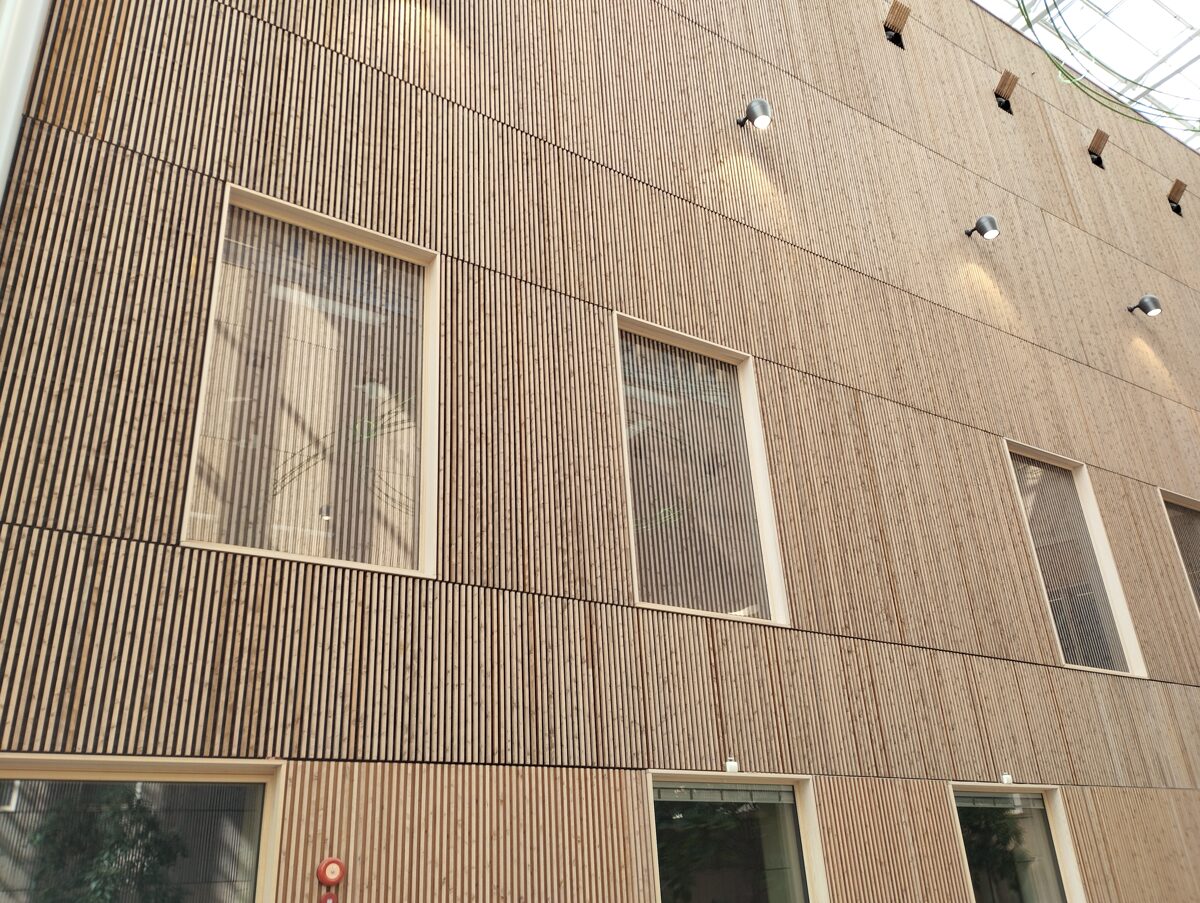 The courtyard was initially planned to be open without a roof, but the adjacent roof had a landing platform for helicopters, and the helicopters would have spread dust all over the courtyard. Therefore, a glass roof was installed above the courtyard. When looking from the outside, the wooden pattern appears to continue in the windows, but that is an optical illusion. From the inside, the view is like looking through normal windows.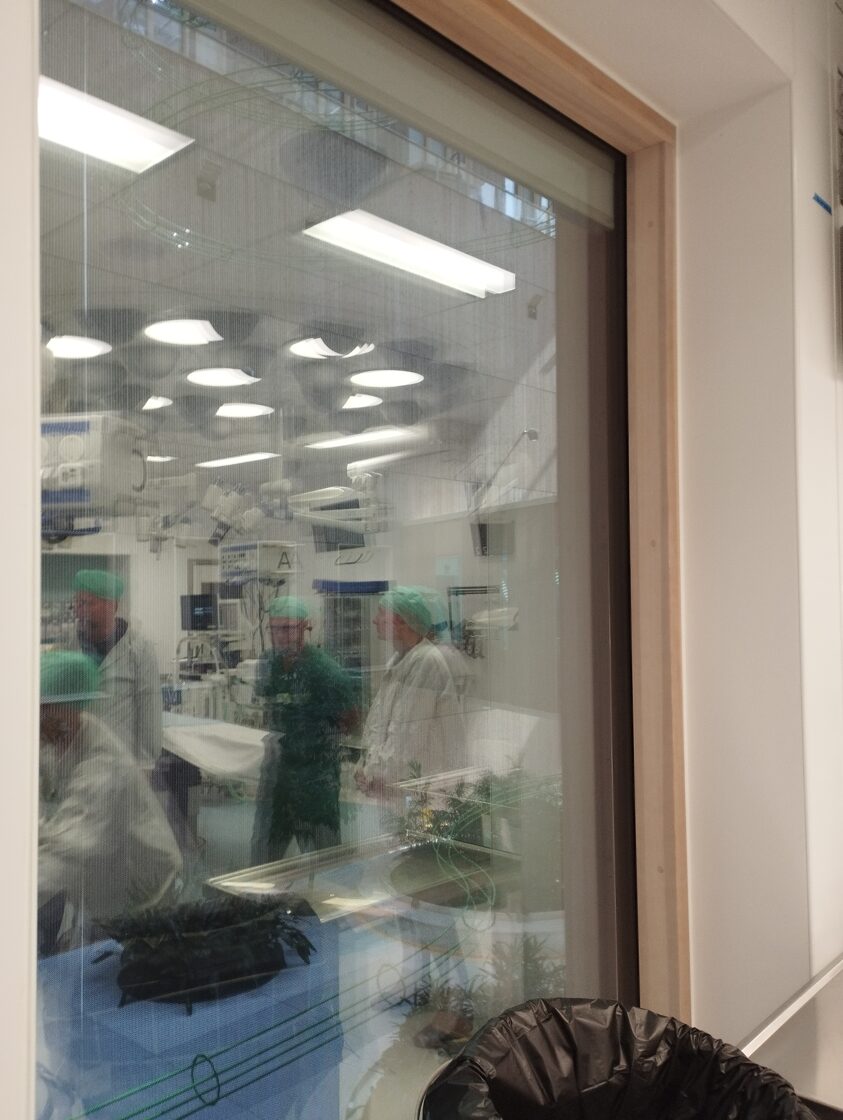 Surprisingly, also operation theater had some wooden surfaces, although only on windowsills. The wood was coated with a coating tolerating disinfectants. We were allowed to visit two operation theaters since they were waiting for throughout cleaning and disinfection.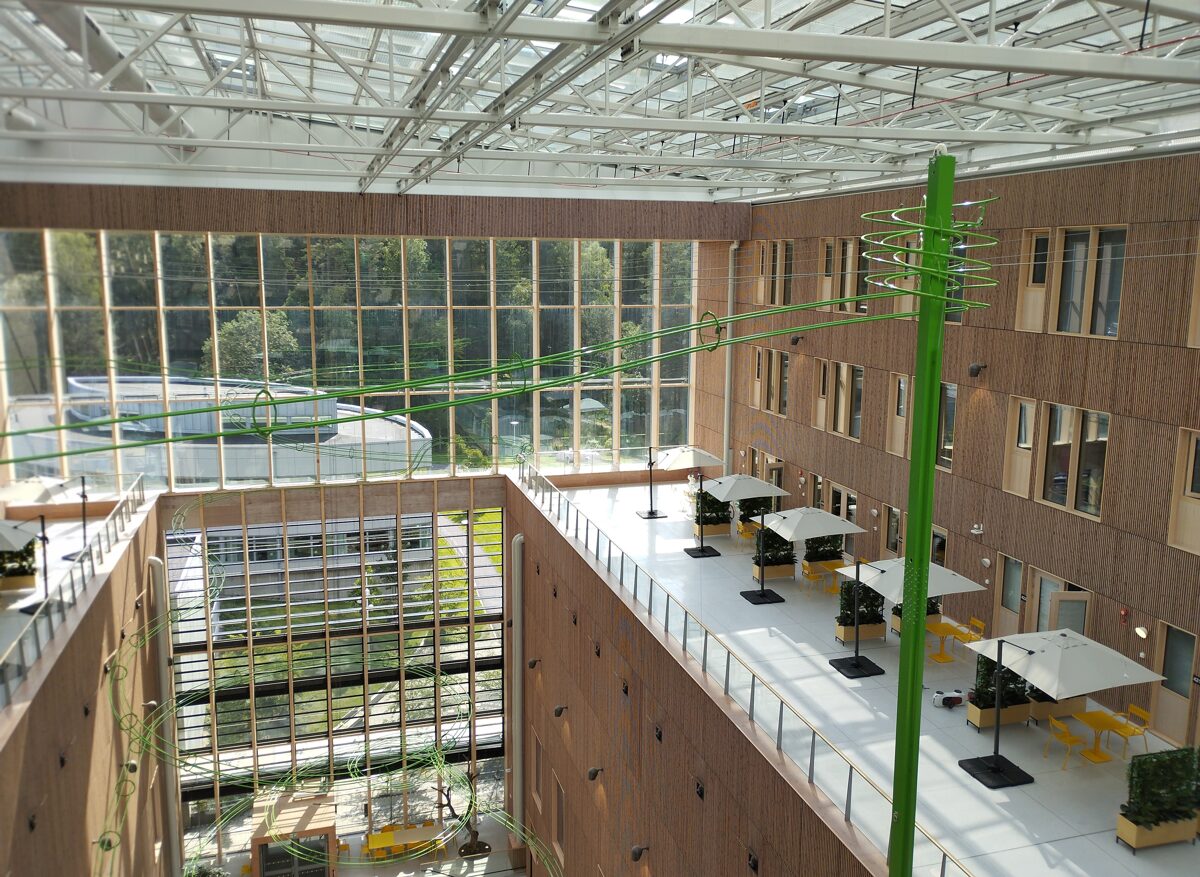 A view of the courtyard from sixth floor. The green spiral is a track for balls. Children were able via mechanism to launch balls to run down the spiral to the ground floor.
The lunch and coffee room of personnel. Walls were covered by birch panels, and this was the most common form of wood in the building. The wood was most abundant in rooms of leisure areas and in peaceful corridors. Patient rooms did not have wood panels on walls, they were kept white on purpose. There were more colours in toilets and washing rooms.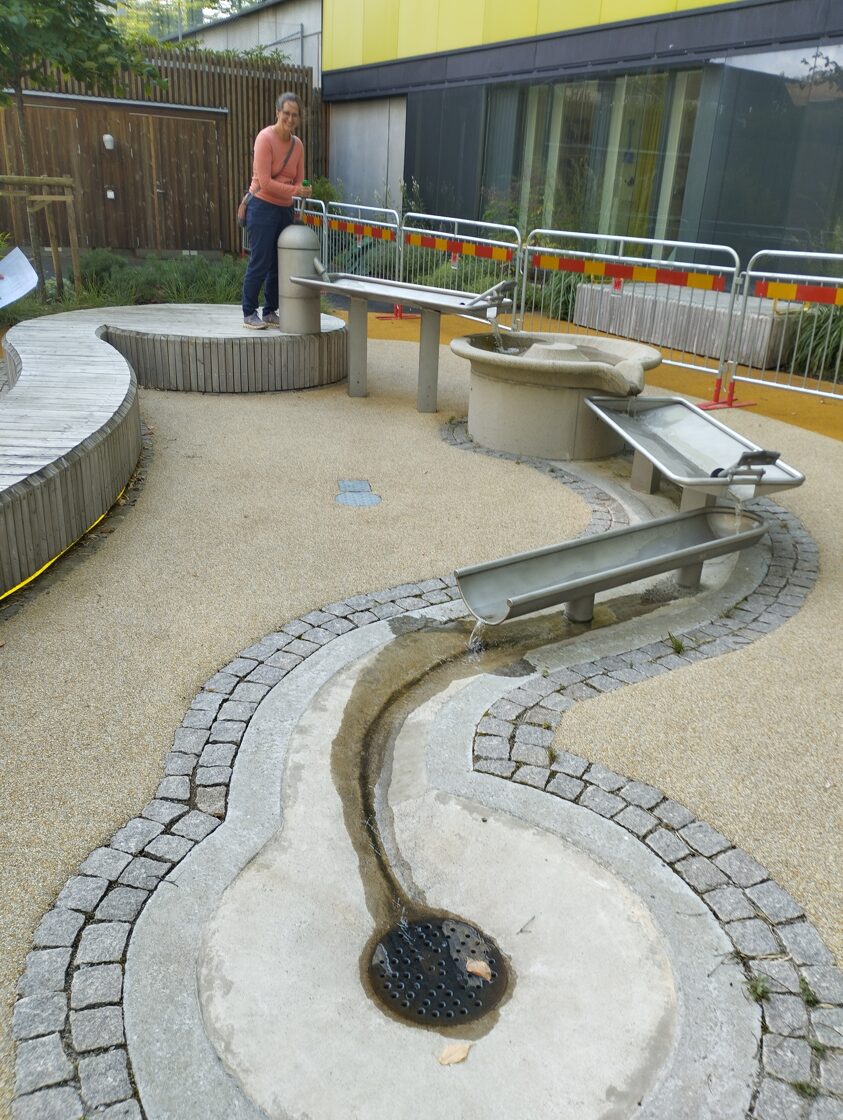 Children were provided with several play areas and toys, and the hospital also had personnel for guiding playing. This is a water track in courtyard, on which water could be pumped, and then openings to various departments could be opened or closed. The pumper is a member of the project consortium (scientist always want to conduct experiments).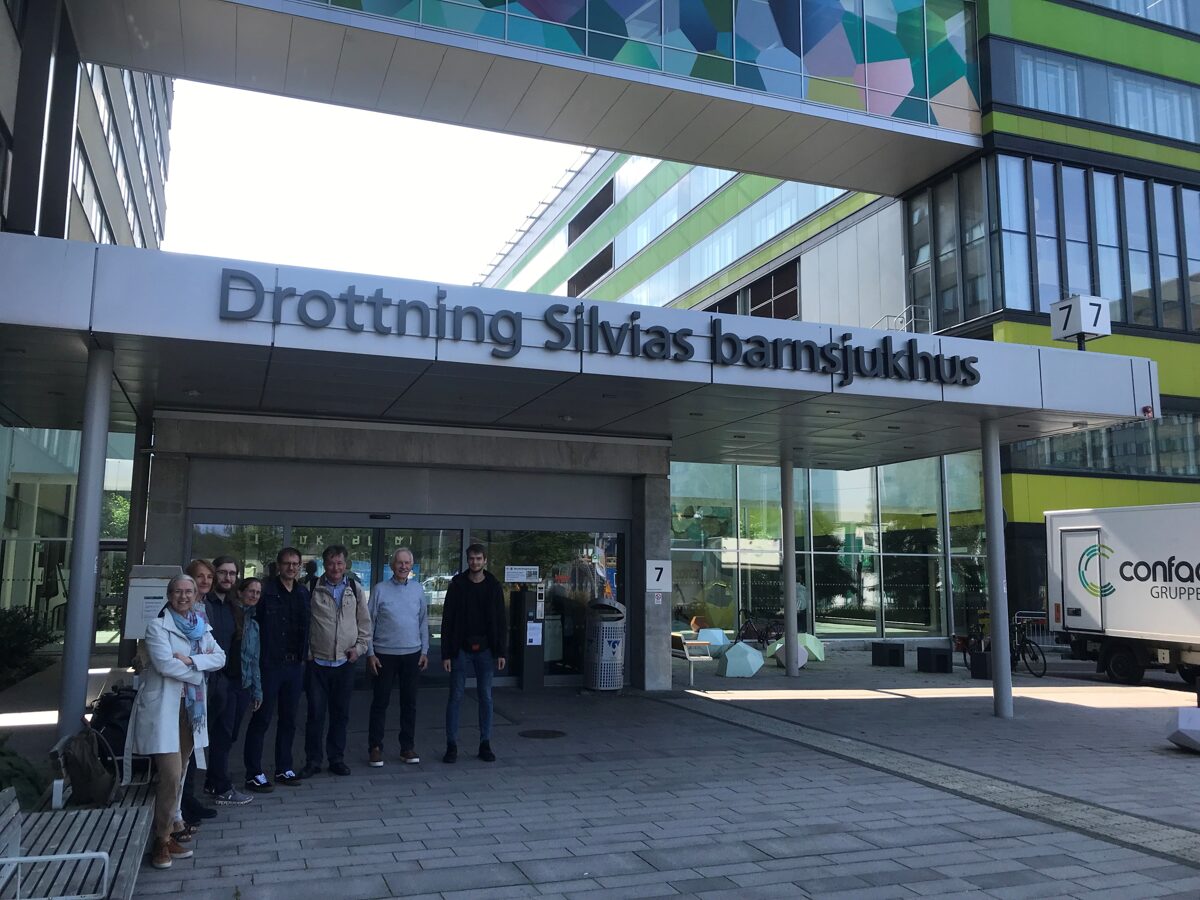 The participant group of the project meeting and hospital visit
No comments
Leave a reply